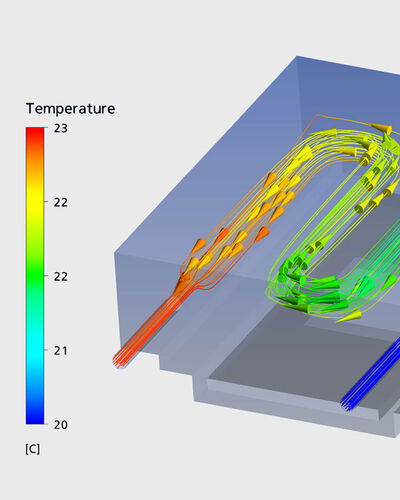 Temperature as load: Stationary and transient temperature fields and their influence on mechanical components can be demonstrated directly.
Temperature distribution, thermal deformation or resulting stresses can indicate problems in design and the potential for optimization. The temperature behavior of components and assemblies is simulated while taking into account heat conduction, convection and radiation. The benefit is obvious: a high calculation speed and good quality of the results due to analytical heat transfer boundary conditions.

Or CFD: Detailed mapping of physical processes to precisely demonstrate heat radiation, heat conduction and convection – as well regarding local effects.

BENEFIT FROM OUR EXPERIENCE.
WE LOOK FORWARD TO HEARING FROM YOU.